Our Pies are Handmade from Scratch Using Only the Freshest Ingredients
At Lake Geneva Pie Company we put a lot of care into our fresh, handmade pies and other goodies. Enjoy our Old Fashioned Pies, whole or by the slice… dine here or carry out.
Locally sourced ingredients go into our season-fresh pies and other desserts. Carefully considered fillings made from nature's ripe bounty and poured into hand-pinched crusts before the tempting treats are placed in our ovens. Then our near to bursting pies with golden brown crusts are placed on cooling racks until they are snatched up to be taken home or enjoyed on the spot.
Not all our pies or quiches are available are available every day. You may order any of our Pies, Cookies, Brownies, Muffins, Special Breads, Quiches, or Pot Pies for your special occasion or "Just Because" for no extra charge by calling ahead.
Lake Geneva Pie's special pastry crust and topping recipe utilizes palm oil.
*Natural pies have apple juice, no artificial sweetener – no sugar added
"We hand make 'em so you can home bake 'em"
Apple Crumb
Another customer favorite made with Northern Spy Apples that are baked in our special flaky crust and topped with a special crunchy topping.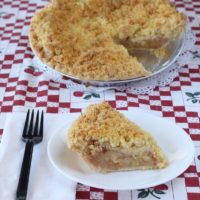 Apple Pastry
The original made with Northern Spy Apples, sweetened with cinnamon and sugar, topped with our special flaky crust.
Banana Cream
Loaded with Fresh Bananas and filled with our special recipe cream filling, topped with a non-dairy whipped topping.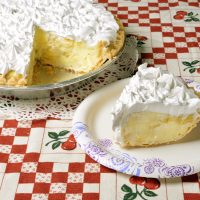 Berry Cherry Crumb
Raspberries and Montmorency Cherries topped with our crunchy hand-made topping.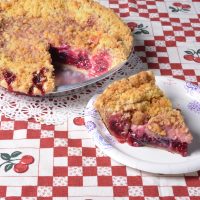 Blackberry Raspberry Pastry
Full-flavored delicious berries blended to perfection and baked in our freshly made flaky crust and topped with another crust to make it double delicious.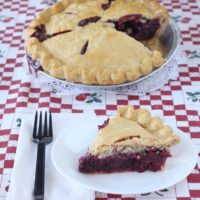 Blueberry Crumb
Plump, sumptuous blueberries baked in our signature flaky crust and topped with the same crunchy hand-tossed topping.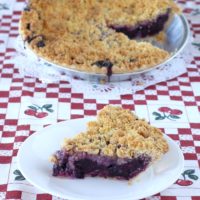 Blueberry Pastry
Michigan blueberries baked in our special flaky crust and topping.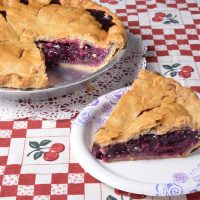 Cherry Crumb
Tart, juicy Montmorency Cherries baked in our freshly made flaky crust and topped with a crunchy hand-tossed topping.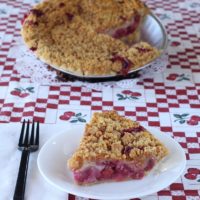 Cherry Pastry
Our cherry pastry is stuffed with beautiful montmorency red cherries, we can barely keep it all inside the crust. There's a good chance this slice of sweetness will become your new favorite! Vanilla ice cream isn't necessary, but it sure will kick it up a notch.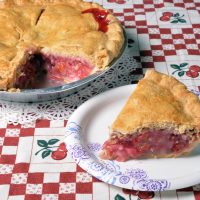 Chocolate Cream
This rich and fudgy chocolate pie is topped with a thick fluffy layer of whipped cream.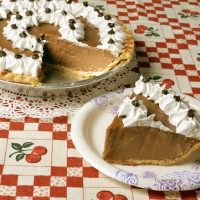 Chocolate Pecan
As if Lake Geneva Pie Company's pecan pie wasn't good enough by itself, we decided to mix in some quality chocolate chips and give you something truly amazing. Pecan filling, chocolate and fresh pecans- our mouths are watering just thinking about this customer favorite.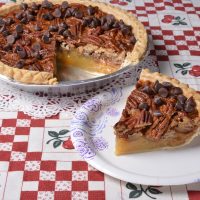 Coconut Cream
Our delicious vanilla cream is stuffed with coconut flakes loaded into our flaky crust and topped with whipped cream.
Lakeshore Berry Crumb
A customer favorite is our tantalizing blend of strawberries, raspberries, blackberries and northern Spy Apples topped with our special crumb topping.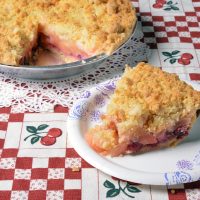 Lemon Meringue
Tangy lemon pie with the perfect meringue topping…. Brown just right in a hot oven.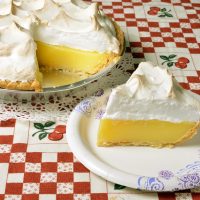 Naturally Blueberry Pastry*
(No Sugar Added) Gorgeous blueberries made with apple juice for a natural made pie topped with our special flaky crust.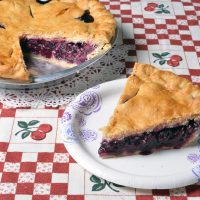 Peach Crumb
Mouth watering sweet peaches oven-baked and topped with a crunchy hand-tossed topping.
Peach Pastry
Sliced peaches cooked to perfection in their own juice, topped with our flaky crust. Vanilla ice cream is a must with this pie.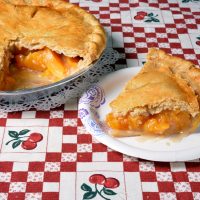 Pecan Pie
Gorgeous mixture of jumbo pecans, Karo Syrup, cane sugar, eggs and vanilla baked in our freshly make flaky crust that presents a shiny glossy top.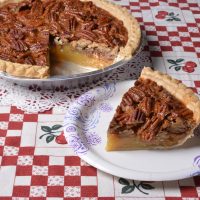 Pumpkin Pie
Memories of yesteryear and just like Grandma used to make with a  blend of the right amount of spices.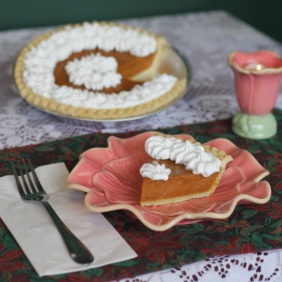 Pumple Pie
Apple Crumb + Pumpkin = Pumple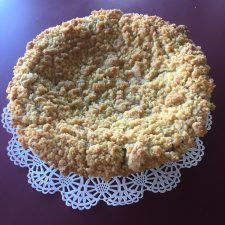 Strawberry Rhubarb Crumb
A special blend of rest strawberries and tart rhubarb baked in our freshly made signature crust and topped with a crunchy hand-tossed topping.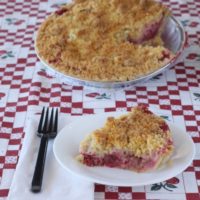 Adams Apple
Apple Rhubarb Crumb
Berry Cherry (rasp, cherry)
Berry Cherry Crumb (rasp, cherry)
Blackberry
Blackberry Apple Crumb
Blackberry Peach Crumb
Blueberry Apple Crumb
Blueberry Cobbler
Blueberry Peach Crumb
Cherry Apple Crumb
Cherry Rhubarb
Cherry Rhubarb Crumb
Cranberry
Cranberry Apple Crumb
Lakeshore Berry (rasp, black, straw, and apple)
Naturally Apple Pie (No Sugar Added)*
Naturally Blueberry (No Sugar Added)*
Naturally Cherry (No Sugar Added)*
Naturally Lakeshore Berry (No Sugar Added)*
Nick's Garbage Crumb (7 Fruits No Apples)
Peach Apple Crumb
Peach Cobbler
Peach Strawberry
Peach Strawberry Crumb
Raspberry
Raspberry Apple Crumb
Raspberry Cranberry
Raspberry Peach
Rhubarb
Strawberry Rhubarb
Baileys Chocolate Cream
Big Turtle (chocolate pecan with caramel)
Chocolate Cream
Chocolate Pecan
Creamy Peanut Butter French Silk
Coconut Cream
French Silk
Key Lime
Lemon Meringue
Peppermint Patti Silk
Muffins, Cookies, Pies & Quiches are available in Gluten Free.
*48 hours notice required for Gluten Free orders